Grace talks with William Palmer




Grace Cavalieri interviews professor/poet William Palmer on The Poet and The Poem. This program is available in streaming audio by permission of MiPOradio.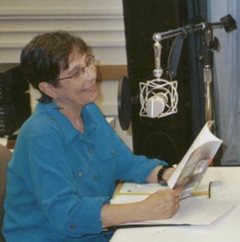 "Telling the truth is hard," says poet William Palmer, "but you can't get a poem without it." Reading and discussing poems from his latest publication, A String of Blue Lights, he describes the impetus for his poems, the place in him where they start, and the process by which they move from stories into truth.

Listen to the program (requires Real Player)
---

Grace Cavalieri is the author of several books of poetry and produced plays. She's produced "The Poet and the Poem" on public radio, now entering its 29th year. Among honors, Grace holds the Allen Ginsberg Award for Poetry, A Paterson Prize for Poetry, the Pen-Syndicated Fiction Award, the Bordighera Poetry Award, the Folger's "Columbia Award." and CPB's Silver Medal. Her latest book, What I Would do For Love: Poems in the Voice of Mary Wollstonecraft, 1759-1797 (Jacaranda Press, 2004), is the basis for her new play, "Hyena in Petticoats," which received a staged reading in NYC in March. Her forthcoming book of poems Water on the Sun will be published this Fall.
TCR Spring 2006 Feature:
An interview and reading with William Palmer