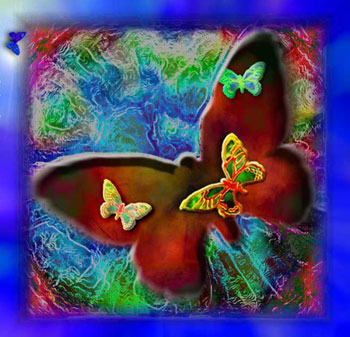 "Butterfly" by Jim Lewis
Dear Friends of The Cortland Review,
We were already several weeks behind our publication schedule when many of you wrote to express your concern. You gave us at The Cortland Review a sense of community that motivated our volunteers to push forward, and just as we were putting the finishing touches on the issue, two planes flew into the nearby World Trade Center and stopped the world. Suddenly our issue, weeks overdue, was utterly insignificant.
Like all of you, we were caught up in confusion and uncertainty. Then many of you wrote to us again, this time inquiring about and praying for our safety. Our feeling of community grew stronger, and you helped us bring structure back to our lives. The Cortland Review is a labor of love, and we thank you for your overwhelming support, for showing us that we are a meaningful part of your lives.
Now it is time for us to show that you are a meaningful part of ours. Our hearts and prayers are with the families and friends of those who are still missing or have been lost in this terrible tragedy, and the rest of you who, like us, are still stunned by it. In a nation strengthened by unity and getting back to business, we hope you find comfort and healing in the poetry among our pages.
Thank you.
God Bless America.
Guy Shahar
Editor-in-Chief