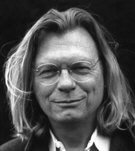 As an unrelenting heat wave blankets most of the U.S., I think back to the late fall of 1998, when I interviewed Thomas Lux at Sarah Lawrence College in Bronxville, New York. It was one of those cold days when the dead leaves weltered and collected on the sidewalks. When I arrived at his office, it was late in the evening and he had just finished teaching for the day. All four of his office walls were lined with books. On the right, as I entered, I saw ten years of Ploughshares filed neatly in chronological order. On the far wall near the window, there was a poster advertising a reading for Bill Knott.

We both made ourselves comfortable, and the interview began. It lasted roughly an hour and was followed by a tour of his book shelves. Most importantly, Tom was not only kind enough to give us a noteworthy interview, he also gave me enough cigarettes to last me for the ride home.

We are also honored that Deborah Digges has chosen TCR to make her online debut. During the last week of June, Co-Editor, Guy Shahar, and Managing Editor, Renee Bandazian, went to spend some time with Ms. Digges to talk about living the writer's life, as well as to record her reading her new poems, "Enjoy the Wind Catcher" and "Trick Birds at the Carnival," available for the first time in this issue. As well, several other poets make their online debut with this issue; their names are marked with a star (

).
TCR editors were out and about in the New York literary circle during the month of June with the launch of the new literary journal Lit, and the celebration of the second issue of the very well received and acclaimed Barrow Street. We are pleased that Mark Bibbins, Poetry Editor of Lit, returns to our pages this month with new poems. We are also thrilled to share the youthful voice of Peter Covino, Co-Editor of Barrow Street, who is featured in TCR for the first time.
I would like to acknowledge three of my staff members whom I value more than they can ever know: Co-Editor, Guy Shahar, Contributing Editor, Vincent Cioffi, and Associate Editor, Ginger Murchison. I am indebted to them for their dedication and vision. Without them, as well as the rest of my enthusiastic staff, my job would be impossible. I would also like to extend a special thank you to all of those who submitted work for this issue. We truly appreciate your craft and your willingness to share with us all.
As we go to press with Issue 8, it has become known to all of us around the world, through yet another ironic plot twist in modern history, that America's Son, John F. Kennedy, Jr., his wife, Carolyn, and sister-in-law, Lauren Bessette, were killed in a plane crash. Besides graciously carrying the family legacy of John, Sr. and Jacqueline Kennedy, JFK, Jr. was also a brilliant young editor with integrity and style. This issue is dedicated to his immortal memory.
—J.M. Spalding