Issue > Editor's Note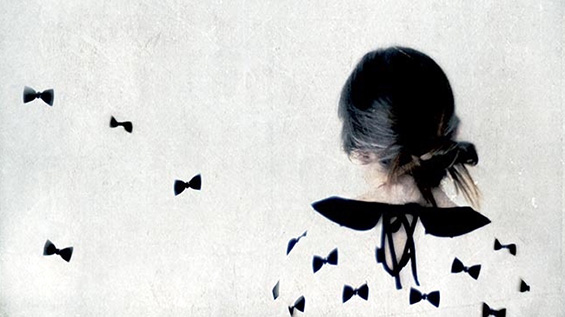 Editor's Note
The Cortland Review is pleased to present "Bowties Never Stay Put," the work of Dawn Surratt, a freelance artist and photographer living in rural North Carolina. As a long-time hospice social worker. The image is accomplished as a single shot, and the flying bowties were composited from the shirt pattern. Her work is represented by Getty, Image Conscious in San Francisco and Trevillion Images in the U.K.
Working with toy lenses, she says, gives her the ability to blur the boundaries between what she is shooting and the emotion she feels, and the tension between what is in focus and what is not inspires her to push out the boundary between photography and painting. Her photographs speak to the realm of imagination and the internal, emotional dialogue that resides in all of us. Although they are simplistic in nature, their complex and layered nuances are emotional reminders of the effects of time on us all, a poignant thought as The Cortland Review closes out its twentieth year with a fantastic array of work, work that pushes, too, at the boundaries of the arts.
For this issue, The Cortland Review is also proud to present the work of poet contributors Jayne Benjulian, Alan Chazaro, John Davis, Kerry James Evans, Alice Friman, Ken Holland, John Kinsella, Jeff Lennon, Richard Levine, Suzanne Matson, Robert Nazarene, Muriel Nelson, Valencia Robin, Robert Joe Stout, Molly Tenenbaum, Kathryn Weld and Michael T Young and new fiction by Dawn Abeita and Harj Dhillon. Additionally, Contributing Editor David Rigsbee has reviewed The Hatred of Poetry by Ben Lerner and Gruel by Bunkong Tuon.
And SOMETHING NEW! Be sure to click on music in our menu to see and hear "Martial – Five Epigrams," poetry in the original Latin and in translation by Tyler Goldman, the musical score, the original composition of William Kenlon, the piano of Nathan Beary Blustein, and the soprano solo sung by Amy Nicole Broadbent.
May you all celebrate this issue's joy with the best wishes of the entire staff of The Cortland Review and enjoy fall wherever you are and the holidays to come. We'll see you again in January.
Cheers!
Ginger Murchison
Editor in Chief